Bandon and Beyond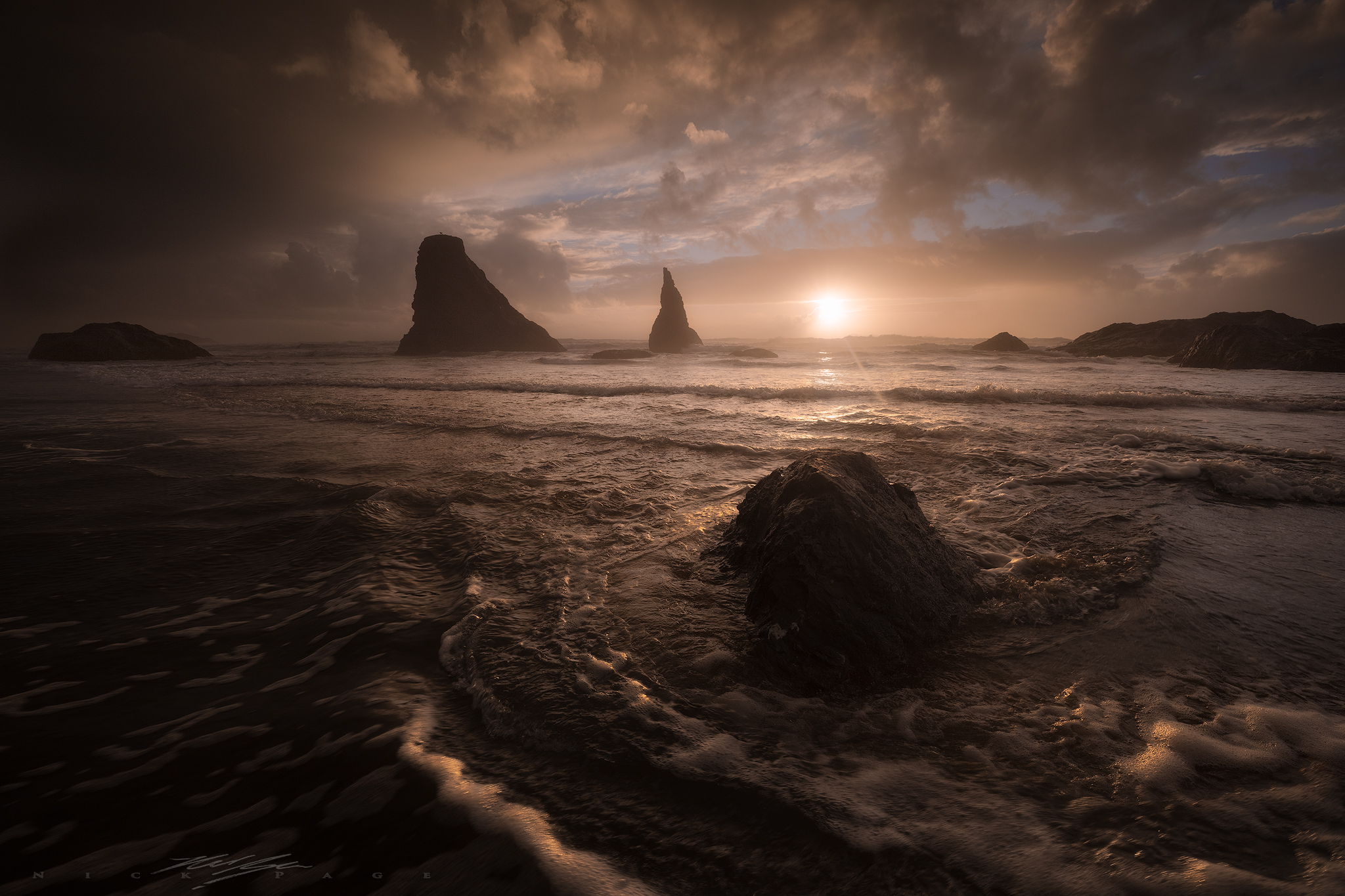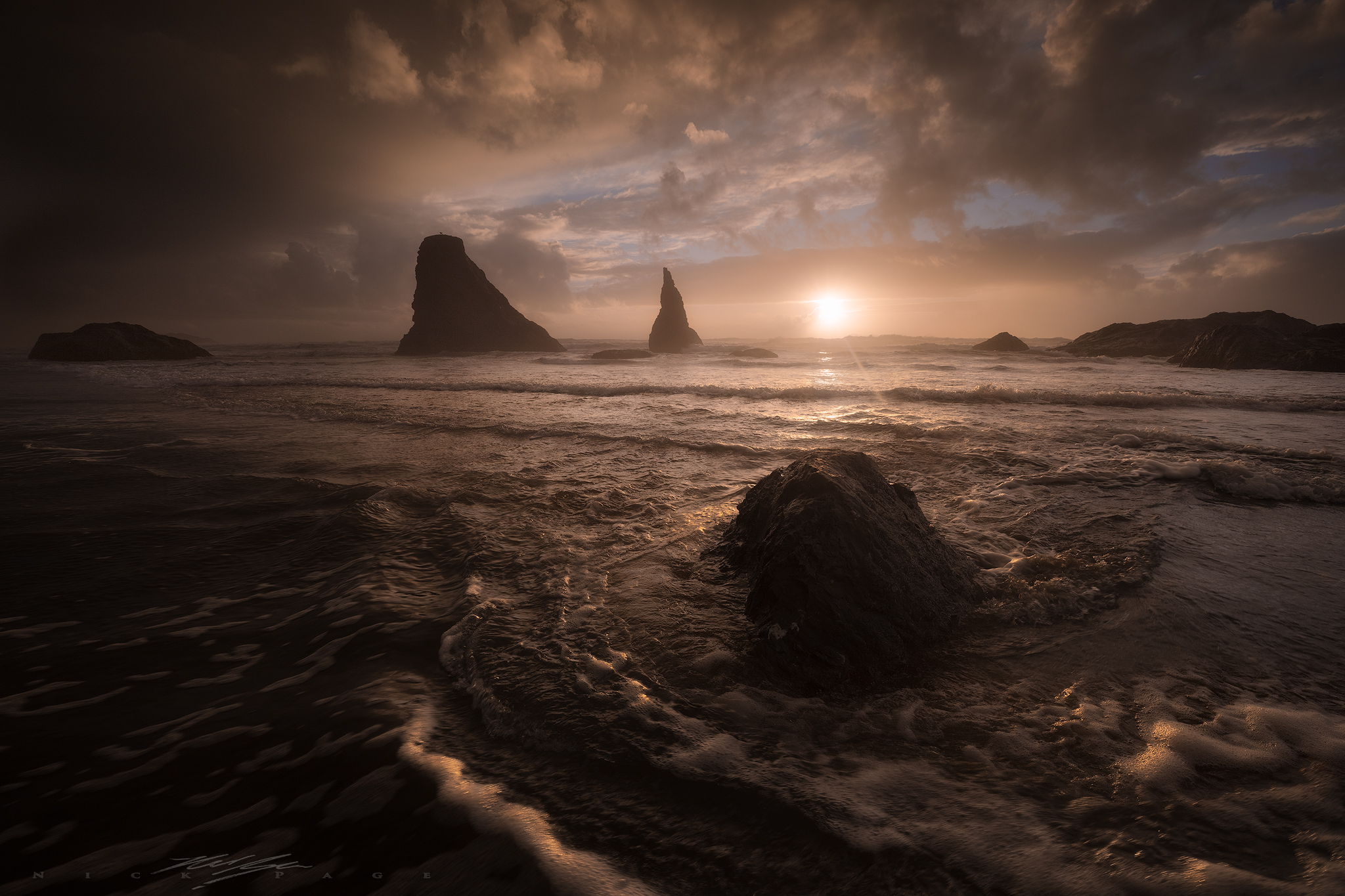 sold out
Bandon and Beyond
Come join me for three days photographing one of the most beautiful stretches on the Oregon Coast
Bandon and Beyond
(3 days photographing one of the most beautiful stretches on the Oregon Coast)
New Listing
3 Days (October 17th-19th)
Welcome to the Oregon Coast
The most diverse and photogenic coast on the planet.
The Oregon Coast is a world-renowned destination for it's unique and rugged coastline. Photographers travel from around the world to capture the unique rugged coastline characterized by towering monoliths, dramatic rugged coastal rocks and bluffs, sandstone cliffs carved by winter storms, and picturesque lighthouses-- all surrounded by the raw and powerful Pacific Ocean. Join Nick Page on this 3 day journey to some of the best beaches on the Oregon Coast near Bandon, OR
Dates/Itinerary
3 Days (October 17th -19th)
Important note: To make the most of this workshop we will be closely monitoring and evaluating weather patterns. The weather will likely play a role in our locations for each sunrise and sunset. The Itinerary is a tentative schedule and subject to change.
Meet up in Bandon, OR
Day 1 (Thursday Oct 17th)
We'll meet up in the Conference room of our hotel, introduce ourselves, talk about our goals for the next couple days then get checked in before heading out to shoot for the night.

Start exploring! We will be staying near my favorite beaches in Bandon.

Night shoot at the lighthouse
Day 2
Rise and shine. Sunrises on the Oregon coast can often lead to some fantastic light.

Head out to shoot a remote waterfall, with a chance of fall color

Small break for food and warmth

head out to shoot sunset

Day 3 (Saturday Oct 19th)
Sunrise at the old river lighthouse

Post processing day, we will be working on our photoshop workflows, discussing various post processing techniques and more

Final shoot, Sunset at whichever location we want a second crack at.

Price - $750
The cost of this workshop includes your guiding fees only (All prices in US Dollars) payment of $750 is to reserve your spot in the workshop. If you need to cancel your attendance to the workshop, we may advertise the opening to others. If someone else signs up to fill your spot, we may refund 80% of dues paid, but only if the spot sells to another participant. The remaining 20% will be held on to as a relisting fee.
What is included:
Guiding to locations, local knowledge of weather patterns, favorable tides and surf, and best locations based on those conditions

One on one instruction both in the field and post processing sessions during our down time.

Post processing sessions. (we will have a post processing session where we sit down together go over workflow and post processing techniques

Drinks and snacks while we are on location (snacks will be simple, but are a nice energy boost when we are out shooting at odd hours)
What is NOT included:
Lodging: Information on lodging options and locations will be sent out upon signup.

Transportation: Transportation will not be provided. but we will help connect participants and work out carpooling situations

Meals: Besides light snacks, meals are the responsibility of the participant.

Travel to and from Bandon, OR.

So to be clear, Nick Page Photography the $750 workshop fee ONLY. Lodging/food/rental car is up to you. We'll all just make our own reservations so you have the flexibility to extend your stay, choose who you room with (or get a room yourself), pick if you want to join someone else to split a rental car, etc. We'll give you all the info soon after you have you purchase your spot in the workshop. You'll be given a link to a special Facebook group for attendees after checkout.

Group size - 8
What the trip is like
This is not a lazy vacation. This is serious, sleep-when-you're-dead style photography. Expect the alarm clock to go off EARLY. We'll grab a bite to eat together (if something is open yet) and then we'll head off in caravans.
Each day is different. If we have good clouds during the day, we can sometimes stay out almost all day shooting. Other days, the clouds clear out, and a clear day spoils the photography, so we may only shoot morning and evening and night. We'll do our best to give you a plan of what each day will bring the night before, but everything depends on weather.
Physical abilities/Skill Level/Equipment
From a physical standpoint, if you feel comfortable walking 1 or 2 miles on uneven terrain, you should be in fine shape for this trip. The rocky ground along the coast can be uneven in some places, but we won't need to go on any prolonged hikes over 2 miles. T
From a photography skill level point of view, everyone is welcome. There is no need to be an advanced photographer by any means. We usually have a good mix of mostly intermediate photographers, a few advanced, and a few beginners.
Important Legal Information
By attending this workshop, you agree to hold Nick Page of Nick Page Photography and its employees and owners harmless for all personal injury or loss that may occur during or in connection with this trip.This is a self-led travel trip. You are responsible for your safety in the car you choose to travel in, with the roommate you select, and as you move about the Oregon Coast. Do not push your physical abilities past what you are healthy enough to do. You are in charge of deciding if a location is safe for you to travel to.
Should the Instructor (Nick Page) become ill, injured, or otherwise unable to perform his duties at the workshop, a replacement will brought into to lead the workshop.
Travel insurance as well as insurance for your photo gear are both highly recommended. All it takes is one rouge wave to ruin your day or even trip, so insurance while shooting the coast is highly recommended.
Nick Page of Nick Page Photography's role in this workshop is to teach photography along the Oregon Coast and guide you to great locations. You are responsible for your safety as you travel. Nick Page of Nick Page Photography makes no effort to vet the other attendees of the trip and you need to make sure you are safe in their companionship.
In the event of extraordinary events, governmental instability, extreme weather, or other condition, Nick Page of Nick Page Photography reserves the right to cancel this trip and return all workshop fees to participants.